Photo of the Month - July, 2004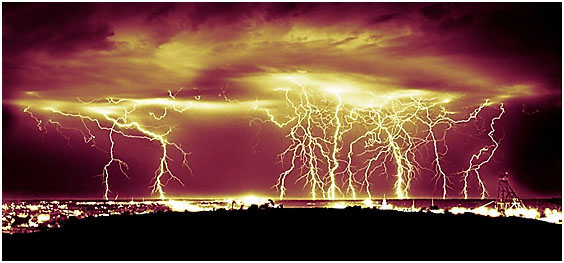 Thunderstruck
This month, subscribers to the Photo of the Month received a Special Edition 5x2.5 inch metallic print of this scene and 10% off the full sized print's price. If you would like to receive a 3 month free trial subscription for the Photo of the Month, please fill out the details on this form.
I made the exposure in 2001 from a hill in Williamstown which overlooks both the Museum headframe and Kalgoorlie's business district. This is the last of four monochrome shots I made while I waited for the storm to get closer to Kalgoorlie. I intended to switch to colour film for the next exposure; I didn't get the chance, because the storm simply died to nothing during the next ten minutes. These strikes happened over a ten minute period, each one recording on the film while the shutter was open. The print is a "quad-tone" on Kodak Endura Metallic paper.
Graeme Hird

Find out more about the benefits of the Photo of the Month
What's the Connoiseur's Collection and why is everybody raving about it?